Himalayan Cypress Wood Essential Oil (Vietnam)
Cupressus torulosa, also known as Himalayan Cypress, steam distilled wood, from Vietnam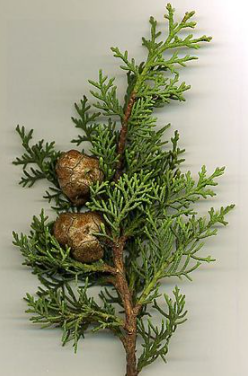 Botanical Name: Cupressus torulosa
Country of Origin: Vietnam
Cultivation: Wildcrafted, Planted
Extraction Method: Steam Distilled
Distillation Date: upto production
Minimum Shelf Life:  4-5 years
Plant Part: Wood
Perfume Note: Middle
Aroma:  Woody, sweet,  slightly balsamic
Himalayan Cypress or Bhutan Cypress, this unique essential oil is distilled from aromatic heartwood wildcrafted from Cupressus torulosa trees in Vietnam.  Cupressus torulosa trees reach for the sky growing to a height of 145-150 feet in the high altitude rocky terrain of the North Mountains of Vietnam.
Essential oil from Cypress trees has historically been distilled from leaves and/or cones; this Cypress wood oil distilled from the aromatic heartwood has a captivating crisp sweet resonating woody aroma that beckons use in perfumery.  A must have oil for those with an affinity for woodsy notes.  Use in Oriental and Incense Amber bouquets and all woody accords.
This Cypress wood oil is new to us and void of reliable documented aromatherapy use.  However, GC analysis indicates this oil is rich in the sesquinterpenes alpha-Copaene 29.92%, Cyperene 13.05%, trans-Caryophyllene 12.13%, Valencene 2%.  The overall data suggestions Cypress wood oil has antiseptic and anti-inflammatory benefits and its uplifting aroma may bring harmony, calm and wellbeing.
Batch specific GC/MS analysis of this Cypress Wood essential oil is available. Select option during checkout to include it with your order.
Aromatherapy use: yet to be determined, chemical profile suggests antiseptic, anti-inflammatory, anti-stress
General use: Diffusers, potpourri, massage oil, perfume, bath oil, bath salt, bath and shower gels, spa treatment oils and creams, soap and candle scent
Contraindications: No known contraindications
Himalayan Cypress Wood Essential Oil