Weeping Cypress Wood Essential Oil (Vietnam)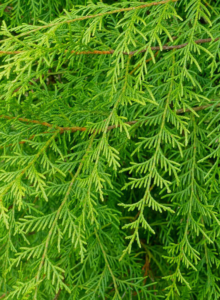 Botanical Name: Cupressus funebris Endl.
Country of Origin: Vietnam
Cultivation: Wildcrafted
Extraction Method: Steam Distilled
Distillation Date: upto production
Minimum Shelf Life:  3 years
Plant Part: Wood
Perfume Note: Base
Aroma:  Woody, Smoky, slightly Sweet with green backnote.
Weeping Cypress Wood essential oil is unique in the fact that it's a superior distillation of only Cupressus funebris wood.  Excluding leaves and twigs in the wood's distillation, the smokiness of this harmonious wood oil is noted in its first soothing whiff.  Weeping Cypress, also known as Chinese Cedarwood, is commonly used in high-end spas and saunas in Asia for lending its ambient zen-like aroma to penetrate the minds and soften the senses.
In perfumery, Weeping Cypress Wood has a particular combination of notes that are very clear, smoky, and cedar-like with a slightly sweet green note subtly intertwined. It can be used to enhance woody notes, spicy accords, and woody-orientals. Perfumers rejoice as this is the perfect aromatic oil for adding smokiness to fragrance without the hefty woody base notes that can easily overload.  It blends exceptionally well with Cedarwood Atlas, and Himalayan; Sandalwood Mysore, Australian, and Hawaiian; Patchouli, and Haitian Vetiver.
Additionally, Weeping Cypress makes a strong candidate as an ingredient to any skincare or wellness product; its aromatherapeutic benefit as an astringent, help tighten the skin and improve the complexion.  Its serene aroma promotes centering, calmness and tranquility for yoga, meditation, and overall wellness.  It has also been noted to stimulate the immune system, and helpful with musculoskeletal aches and pains such as tendonitis and muscle/tendon strains.
Weeping Cypress Wood essential oil can vary in quality.  Our stock is premium quality as confirmed by GCMS whereby the primary constituents are: Epicedrol 59%,Weeping Cypress Wood Essential Oil
Batch specific GC/MS report for Weeping Cypress essential oil is available. Select option during checkout to include it with your order.
Aromatherapy use:  anti-anxiety, anti-inflammatory, antimicrobial, astringent, immune stimulant, musculoskeletal aches and pains
General use: Diffuser, potpourri, massage oil, perfume, bath and shower gels and salt, spa treatment oils and creams, soap and candle scent
Contraindications: No known contraindications